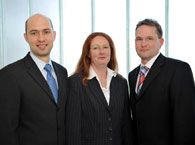 06/02/08
As from today, SMA Technologie AG will be trading as SMA Solar Technology AG. The new name reflects SMA's strong focus on solar technology and the increasingly international scope of its business activities. The name change has also been accompanied by the introduction of a new logo. At the same time, the successful SMA railway technology division will henceforth be operated wholly as a subsidiary of SMA Solar Technology AG, trading under the new name of SMA Railway Technology GmbH. The aim is to ensure that the new subsidiary will be able to perform even more efficiently and independently in the railway technology market than was previously possible. The conditions for the railway technology spin out were drawn up over recent months at SMA and a corresponding spin out plan was agreed at the general meeting on April 30, 2008. The spin out of railway technology became legally effective today after the new company was entered into the trade register.
Railway technology is an important division within the SMA Group. SMA develops and manufactures power electronic components and systems, particularly for local and long distance railway networks, and also provides services such as system consultation, as well as a comprehensive range of services. The products supplied range from battery chargers right up to complete energy supply and diagnosis systems. More than 3,000 railway passenger carriages have so far been fitted with SMA systems, with customers including both national (e.g. Deutsche Bahn AG) and international companies.

Sophisticated technology and numerous innovations in power electronics have earned the company an excellent market position in recent years. In 2007 alone, sales of around 15 million euros were achieved and numerous new orders won. In order to support and drive forward this development in the future, SMA has decided to spin out railway technology as a 100 per cent subsidiary. "SMA Railway Technology, whose products are a byword for lightweight and highly efficient power electronics of outstanding reliability, has achieved outstanding results in the past. We want to ensure that this success will be maintained in the future and that the division will grow more quickly than the railway technology market," said CEO, Günther Cramer. "However, this will require a matching organizational structure and an independent status within the SMA Group, which now concentrates almost exclusively on solar technology. In this way, the spin out can form the basis for stronger growth in railway technology."

Working conditions for employees will be protected
The interests of the 100 employees who are currently working in railway technology have not been overlooked in the spin out: all the employees concerned have been included in the decision-making processes, and contracts of employment, company agreements and previous additional benefits have been adopted unaltered. Additional jobs are also to be created over the long-term, dependent on a correspondingly positive development of the market position.
The new company's headquarters are in Kassel. Graduate engineers, Andreas Berger, Birgit Wilde and Dirk Wimmer, who have already managed the railway technology division for several years, will assume responsibility for SMA Railway Technology GmbH as executive directors. The spin out will also be readily identifiable in future by the new SMA Railway Technology GmbH company logo, which will clearly show that the subsidiary is part of the parent company, whilst at the same time operating as a company specializing in railway technology.

Cramer: "We are convinced that the spin out has been the correct strategy: one which will enable us to accelerate the expansion of railway technology in the sphere of lightweight and highly efficient power electronics. The new organizational structure and the previous very positive development provide ideal conditions for the long-term success of SMA Railway Technology GmbH."

SMA Solar Technology AG, with its headquarters in Niestetal/Germany and eight international branches on four continents, develops and markets solar inverters, which are a central component of all solar installations. The company, which is the global market leader in the solar inverter sector in terms of sales volume, currently employs more than 2,000 staff and generated sales of 327 million euros in 2007.
Kassel/Niestetal