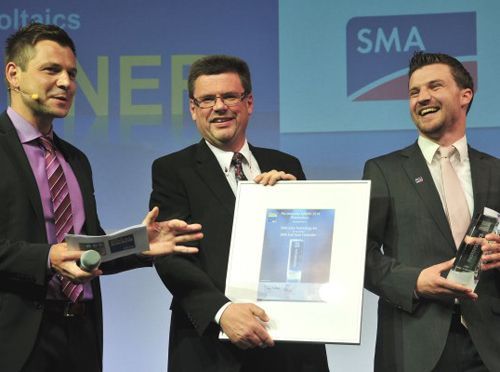 06/05/14
Niestetal/Munich, June 5, 2014—SMA Solar Technology AG (SMA) was recognised with the Intersolar AWARD in the "Photovoltaics" category for the SMA Fuel Save Controller at Intersolar Europe 2014 in Munich. As part of the SMA Fuel Save Solution, the SMA Fuel Save Controller allows the integration of high shares of photovoltaics into diesel-powered systems for the first time ever. Even under harsh ambient conditions, it ensures the stable operation of photovoltaic diesel hybrid systems and at the same time reduces operating and maintenance costs. This is the fourth time that SMA has received the Intersolar AWARD.
"In regions with a weak grid infrastructure, the competitiveness of numerous industrial businesses critically depends on a reliable and cost-effective electricity supply. For the first time ever, the SMA Fuel Save Solution makes it possible to integrate significant shares of solar energy into diesel-powered grids, ensuring stable grid operation at any time," explained Volker Wachenfeld, Senior Vice President Hybrid & Storage at SMA.
In particular sunny regions, such as the Middle East, Sub-Saharan Africa and Southeast Asia that account for more than one-third of annual diesel and gas turbine sales, are a highly promising market for hybrid energy generation systems.
The challenge to ensure grid stability
With low investment costs, to date, diesel generators have been the global standard for supplying electricity to nonelectrified areas or for backing up unstable utility grids. Along with the significant rise in the price of fuel over the last few years, costs of diesel power generation have gone up. With the drop in PV system prices, integrating high shares of solar power allows cost savings to be achieved.
"The payback periods for an investment in a PV diesel hybrid system are extremely short at between three to five years on average. In addition, the system can be subsequently expanded at any time without any problems," said Wachenfeld. Operation and maintenance costs of such large-scale hybrid systems could be significantly reduced and, depending on the system design, up to 450,000 liters of diesel could be saved per year with a 1-MW PV system.
The key technological challenge is to maximise the share of solar power that can be stably integrated into diesel grids by using smart control engineering. The SMA Fuel Save Solution was developed for these applications. In addition to the PV inverters, the other main component of this system technology solution is the SMA Fuel Save Controller, which manages demand-based PV feed-in at the interface between diesel generators, PV systems and loads. The SMA Fuel
Save Controller detects the flow of energy through the stand-alone grid and calculates the maximum PV power permitted ensuring continuous system stability and smooth diesel genset management.