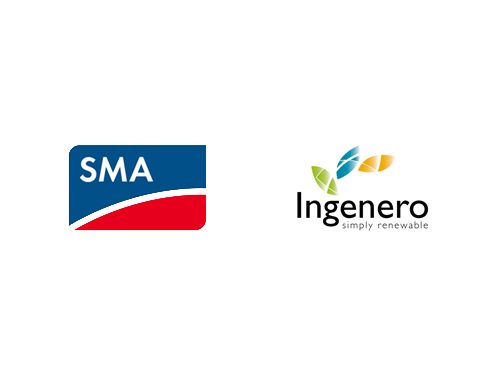 06/10/14
SMA and Ingenero signed an agreement with the express purpose of delivering product and systems solutions that will accelerate the uptake of solar PV systems for integration into remote power grids dominated by diesel generators. The agreement builds on a long standing relationship between the two companies, and that relationship was essential to the recent successful installation of a solar diesel hybrid system in the Pacific where solar power now offsets up to 70% of that grid's electricity demand. The use of PV can deliver a major offset in the amount of diesel being used for electricity generation as well as reducing cost volatility caused by diesel price fluctuations and supply chain logistics.
SMA is the global market leader in the development and supply of solar inverters, a key component of all PV plants. Battery inverters and the SMA Fuel Save Controller enable the integration of a high share of photovoltaic into a hybrid energy system (HES). "The HES market has huge potential and SMA firmly believes that it will grow rapidly over the next five to ten years," said Mark Twidell, Managing Director for SMA Australia. "Because of the complexity of the environment and in many cases the uniqueness of these PV diesel hybrid system projects we need to partner with organizations that can deliver unique local value-add. This is where Ingenero with their proven delivery capability and strong technical background come into the picture. We need partners with whom we can deliver real solutions into this market segment," Twidell said.
Ingenero is leading the way in this emerging market, having recently completed construction of a 500kW hybrid system in Tonga and announcing a utility scale HES project for the Rio Tinto bauxite mine and township in Weipa, Australia.
"SMA is the market leader when it comes to providing technology solutions that are going to deliver meaningful offsets of diesel fuel in an HES environment," said Ingenero CEO Steve McRae. "The very strong technology base that SMA offers enables us to deliver a fully integrated solution to maximise both the economic savings around fuel offset along with integrating and reporting to customised network SCADA systems. Hybrid energy systems are typically installed in remote and harsh environments, hence the need for robust solutions that are capable of withstanding the unique challenges seen in many HES projects," McRae said.
"Ingenero has proven itself in two areas critical to success in this market," McRae went on to say. "We have a proven track record of delivering solutions in the complex physical and technical environment that is the HES market segment. We have also proven we have the logistical and project management strength to deliver the package to the end customer in some of the most challenging environments in the world".
"We are excited about the partnership with SMA and what it can deliver to our customers and the market in general. We expect the partnership will deliver a variety of unique solutions on an ongoing basis," McRae said.