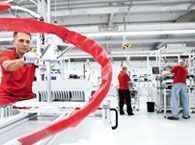 05/28/08
Not only is SMA Solar Technology AG among the best employers in Germany in 2008, but now this leading solar inverter manufacturer has also been awarded a prize by the Great Place to Work Institute Europe for being one of the best employers among European companies with more than 500 employees.
This year's winners of the "Best Workplaces in Europe 2008" competition were announced during a ceremony on May 27, 2008, in the National Maritime Museum in London. More than 1,250 companies from 15 EU countries participated in the international competition. The jury compared companies that each had already received an award at the national level as the best employer in the Great Place to Work competition. In selecting the prize winners, one hundred companies were singled out in each of two categories: 50 to 499 employees and over 500 employees. SMA rendered another outstanding performance in the "Best Workplaces in Europe 2008" competition and claimed 7th place in the category of more than 500 employees.

The Great Place to Work Institute, which presents the coveted prizes each year, defines a great workplace as one where "you trust your employer, are proud of what you do and enjoy the teamwork with your colleagues". In other words: The key components for the building blocks within an ideal workplace include trust, fairness, respect and reliability. In addition, these traits also promote increased team spirit among employees as well as pride in the company.

These criteria provide the foundation for the values and goals of SMA. "Open communication, mutual respect and comprehensible decision-making processes are the backbone for the distinctive corporate culture at SMA, which, in turn, has been confirmed by an extremely low employee turnover", explained Jürgen Dolle, Head of Human Resource Management. "Apart from providing a pleasant working atmosphere, we also strive to win the hearts of our employees and establish an emotional bond to the company". In the end, an excellent working environment promotes creativity and provides room for innovative ideas that are extremely important for a company like SMA that is striving to continue setting itself apart from the competition through clear technology leadership and to grow faster than the market. "We are not only aiming to provide additional financial incentive, but, most of all, we also want to promote stronger identification with the company," added Dolle, "by allowing all employees to financially participate in the company's success by providing them with the opportunity to purchase company shares. If the employees are directly involved in the company's development, then each and every one has an enhanced sense of responsibility for his or her work".

The Great Place to Work Institute is a research and management consultancy that currently compiles lists of the best employers in 31 countries based on a standardized evaluation process. The institute has also held this renowned competition in Germany since 2002. The competition is also supported by other cooperating partners, such as, the New Quality of Work Initiative (Initiative Neue Qualität der Arbeit, INQA) from the German Federal Ministry of Labor and Social Affairs. The Great Place to Work Institute Europe is responsible for creating the annual lists of the best employers at the European level.

SMA Solar Technology AG, with its headquarters in Niestetal, Germany, and eight international subsidiaries on four continents sells solar inverters, a central component of every solar power system. The global market leader in solar inverters, ranked according to sales volume, currently employs approximately 2,200 employees and generated sales totaling approximately 330 million euros in 2007.
Kassel/Niestetal